Latest Photos
2018.07.20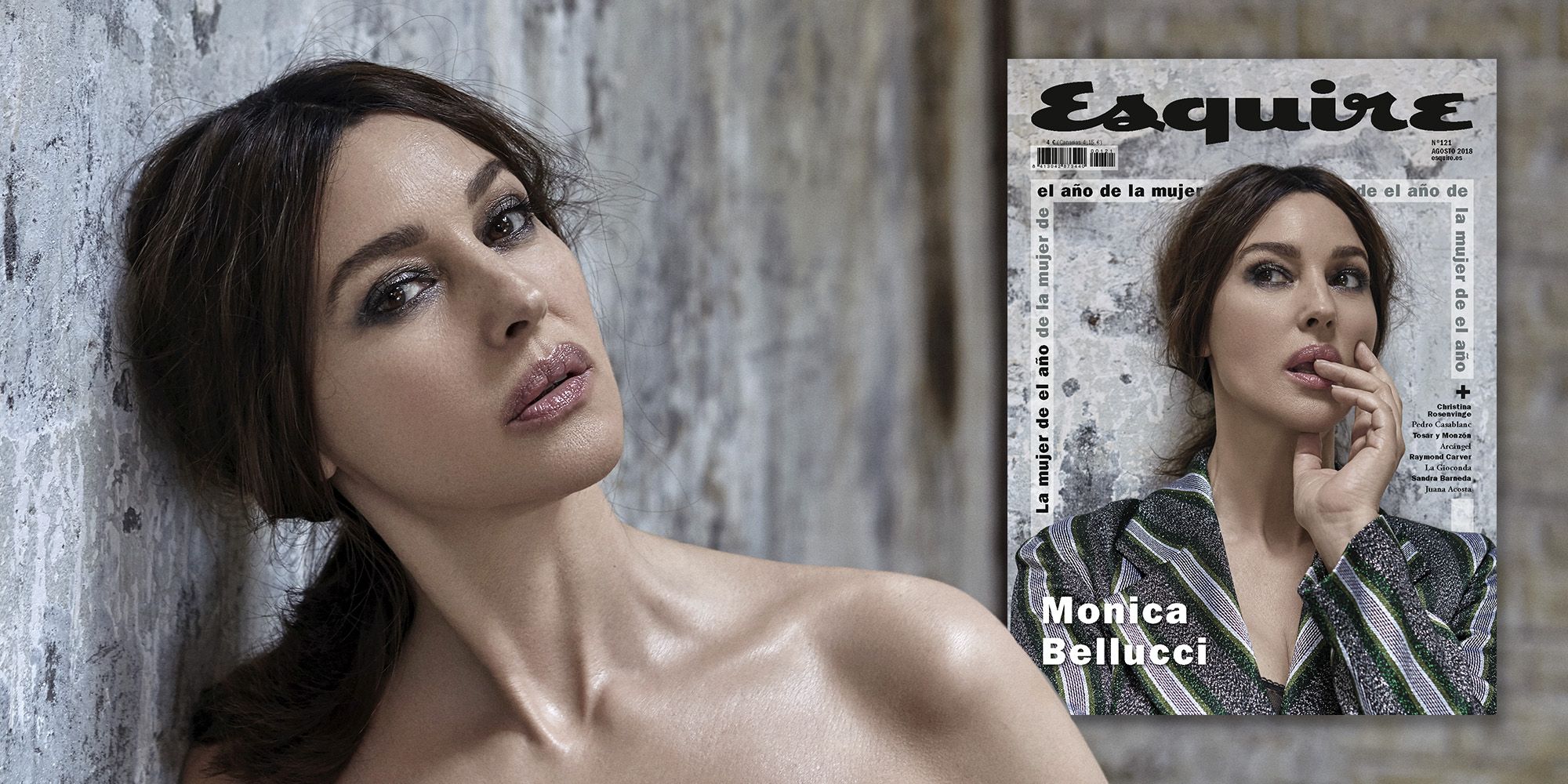 Este es el año de las mujeres, la década de las mujeres, el milenio de las mujeres. Por eso el número de agosto de Esquire lleva en portada a una de las mujeres del año, de las mujeres de la década, de las mujeres del milenio. Monica Bellucci es mucho más que la diva del cine, que la última mamma siciliana (de adopción), que el canon de belleza hecho carne. Es una Woman We Love con raíces y discurso, igual que Charlotte Gainsbourg, Juana Acosta, Christina Rosenvinge y otras protagonistas del número. También contamos con algunos tipos interesantes, que el sexo débil merece su cuota. ¡A la venta desde el 24 de julio! (c)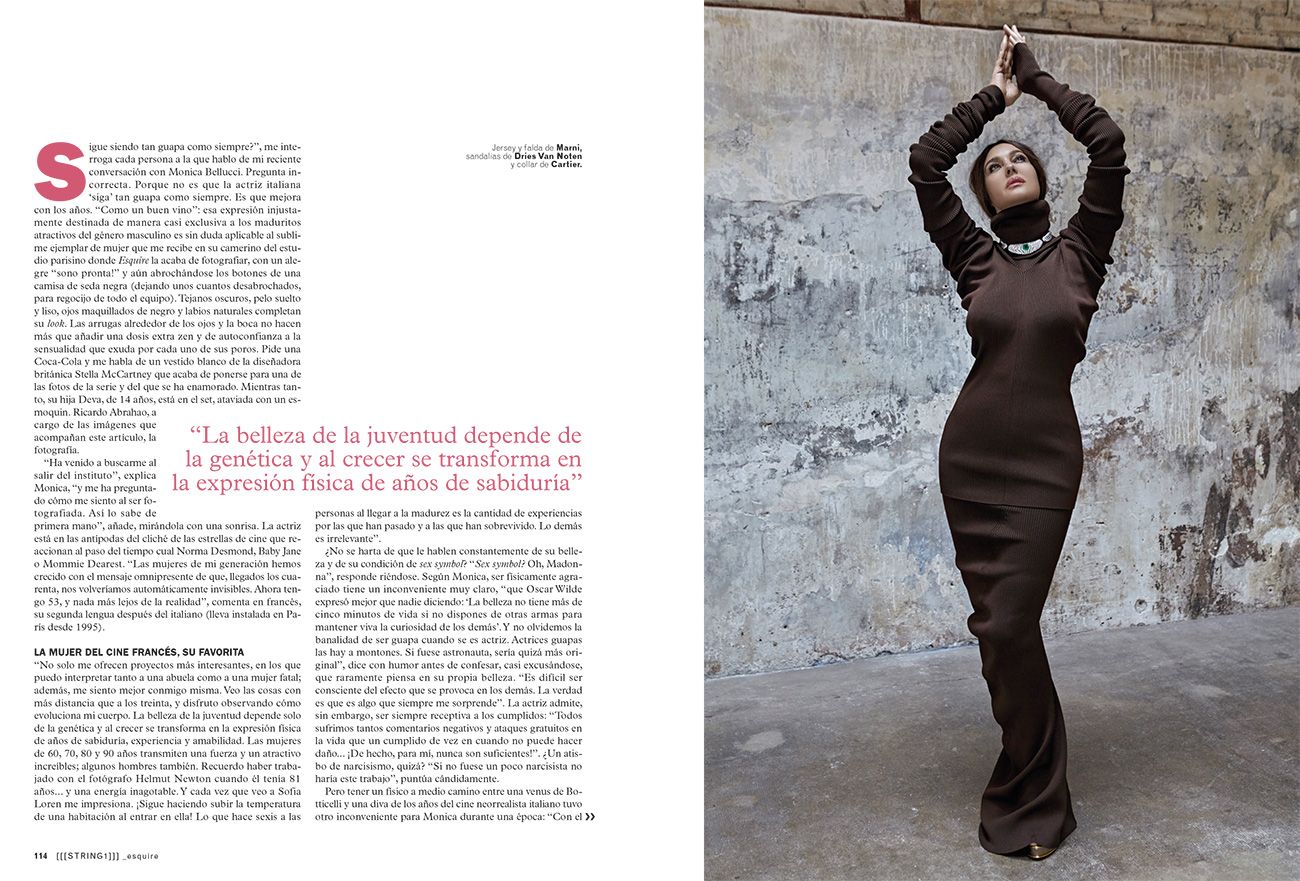 La actriz italiana posa en exclusiva para Esquire España y analiza cómo ha sido atravesar la barrera de los 50 en una industria como la del cine, además de reflexionar sobre el feminismo y los ideales de belleza y familia.
Published by: admin
2018.07.03
Dans sa maison De lisbonne, un café Du quartier De l'alfama, puis un palace parisien, la star italienne évoque avec une franchise Désarmante son âge, ses filles, sa part D'ombre et la lumière qui l'habite.
l y a quelque chose d'étrange, se dit-on en rejoignant la table de l'équipe de ELLE après sa première journée de shooting. Au début, on n'y croit pas tellement, mais on ne voit que cela : Monica est là, au milieu de cette brasserie bondée de Lisbonne. Alors qu'on l'imagine retranchée dans la suite d'un palace ou invitée chez Madonna ou Christian Louboutin, résidents VIP de la capitale lusitanienne. C'était mal connaître la Bellucci, qui s'adresserait de la même manière à Emmanuel Macron qu'à Manu, l'assistant ombrelle indispensable pour éviter un coup de chaud pendant les prises de vue. Imaginez la tête des touristes et des pépés portugais assis sur leur chaise en plastique apercevant cet attelage loufoque. Ou celle du tenancier quand elle déguste une sardine à onze heures du matin au comptoir d'un minuscule café du quartier de l'Alfama. Eh bien, on fait la même, ce joli soir de juin ! Reste un impondérable, un truc dingue tombé du ciel de l'Italie, une lame de fond qui ramène immanquablement cette femme si abordable sur la rive de l'exceptionnel : sa beauté du feu de Dieu. Au moment du dessert, on se demande comment on partage un pastéis de nata avec une des plus belles filles du monde ? La vie ne vous y prépare jamais.

Published by: admin
2018.06.27
Dear friends, We appeal to the collectors of old magazines with Monica Bellucci, in particular the Italian "Grazia" and "Gioia", are interested in information on the numbers (dates) for 1987-92 where there is an actress, if you know or you have rare magazines in your collection, please write to – labellucciru@gmail.com
Published by: admin
2018.06.24
Beautiful choices – Monica Bellucci tells Glass how she leads her life through her work
Glass was delighted to talk to Italian actress and model Monica Bellucci in Paris to discover more about her life and work. Having begun her modelling career at 13, Bellucci's first major film was the BAFTA-winning 1996 romantic thriller L'Appartement, which also starred Vincent Cassel – the man she went on to marry. Having split with him nearly five years ago, Bellucci has been balancing work on high-profile projects – she starred as the oldest ever "Bond girl" at the age of 51 in Sam Mendes's Spectre – with raising her impressively multilingual daughters Deva (13) and Léonie (seven). Along the way, she's been unafraid to tackle unusual and challenging projects, the most controversial being Gaspar Noé's 2002 psychological drama Irréversible, in which her character is raped in a notoriously protracted scene. Fluent in at least three languages, Bellucci learnt Serbian for Emir Kusturica's 2016 drama On the Milky Road, which was four years in the making.
Published by: admin
2018.06.10
Embajadora de la nueva línea facial de NIVEA
MONICA BELLUCCI HABLA PARA «¡HOLA!» DE SU FAMILIA, SU CARRERA Y DE CÓMO AFRONTA EL PASO DEL TIEMPO A SUS ESPLÉNDIDOS CINCUENTA Y TRES AÑOS
«He tenido suerte en la vida porque he podido ser madre. Yo solo veo ventajas»
HA trabajado con directores de todas las nacionalidades, ha recibido importantes premios a lo largo de su carrera, ha aceptado —y sigue haciéndolo— papeles de lo más arriesgados, ha posado para los fotógrafos más prestigiosos del mundo y es un símbolo de belleza atemporal. A sus cincuenta y tres años, Monica Bellucci parece tener el secreto para detener el tiempo, aunque, entre risas, asegura que no es así. Viene de ilmar en Australia, acaba de participar en una de las series más famosas de Francia y ha rodado, en Bélgica, «Spider in the web», con Ben Kingsley. Un no parar. Está ahora en Madrid, donde hablamos con ella como embajadora de la nueva línea facial «Nivea Hyaluron Cellular Filler». Entra en la sala con una gran sonrisa y su imponente belleza. Pero de ella no es su físico lo que más impacta, sino su dulzura cuando comienza a hablar. Quien se sienta frente a nosotros no es el mito, sino la persona. Y muy cercana, por cierto.
—¿Cuál es su mejor secreto para estar así de bien a los cincuenta y tres años?
—¡Casi cincuenta y cuatro! Los cumplo en septiembre. Hay cosas que me ayudan a crecer. Marcharme muy joven del pueblo donde nací me demostró que podía arreglármelas, el hecho de entrar a trabajar en la moda, que se cumpliera mi sueño de niña de hacer cine… Pienso que hay una gran dosis de fortuna en la existencia. Seguramente, mis hijas me están enseñando mucho y espero yo también poderles enseñar cosas. La maternidad me abrió puertas completamente nuevas. Y después, el propio tiempo que pasa, porque me está enseñando cosas que no sabía. Tuve dos abuelas a las que adoraba y vengo de un mundo matriarcal muy fuerte. Esas mujeres también me enseñaron muchas cosas.
Published by: admin
2018.05.24
«Mi piacerebbe prendere delle case distrutte e rifarle completamente». Se non fosse Monica Bellucci a parlare, potremmo interpretarla come una metafora legata al tempo che passa, alla voglia che viene di chiamare il chirurgo plastico appena superi i 50. Ma visto che per lei i radicali liberi hanno deciso di mettersi in sciopero naturalmente, questa frase probabilmente è solo il desiderio di fare qualcosa di nuovo. Non si sa quante volte le abbiano chiesto dell'età che avanza. Troppe, forse inutilmente. È l'eleganza, più che gli anni, a parlare per lei: tailleur pantalone bianco, décolletées color carne tacco 12, nessun gioiello e una manicure nude. Ogni volta che risponde lasciando scivolare le parole lentamente, a bassa voce, costringendoti all'immobilità per ascoltare, alza la spalla e lo sguardo nella stessa direzione, da vera diva: «Andiamo nel mio camerino, c'è troppo rumore qui».
Published by: admin